Established in 1984 and now in our 34th year,
Castlegar Sports Centre and Fly Shop has become
the
place
for fishing and hunting equipment, fishing licences, custom-built fly rods,
fly tying supplies and instruction, skate sharpening and equipment and supplies
for sports of all types including swimming, hockey and soccer. Our main focus
however, is on fly fishing and fly tying, fly tying courses as well as guiding
fishermen and fisherwomen to satisfying days on the lakes and rivers surrounding
the beautiful city of Castlegar located right at the confluence of the Kootenay
and Columbia rivers and the Lower Arrow Lake.
Our little store offers quality sports equipment, clothing and sports
supplies for many of our local activities. Drop over our conveniently
located shop and check us out. Listen to the old timers "no bull" fishing
stories and watch Rod tie "killer" flies for the local waters. We're
located at 2243 6th Avenue Castlegar, BC right across from the old Rona Building
or call us at (250) 365-8288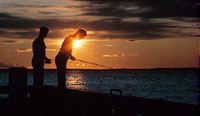 Fly tying is our specialty. We have years of experience tying and teaching
others to tie flies. We offer fly tying supplies from feathers, pelts to hooks and thread.
You might even consider joining our fly fishing club
where members learn fly tying, fly casting and everything associated with
fly fishing. We have guest speakers from BC Government agencies, BC Hydro,
environmental presenters and we go on fishing trips just to relax, learn and
have fun!